高分子电缆桥架分为槽式、托盘式和梯架式,由支架、托臂和安装附件等组成。建筑物内桥架可以单独架设,也可以附设在各种建(构)筑物和管廊支架上,应体现结构简只,造型美观、配置灵活和维修方便等特点。经济快速的发展使得电缆桥架的使用率很高,它使得电线、电缆、光缆的设备具备了标准化、系列化、通用化水平。而电缆桥架安装的环境各有不同,这就要求电缆桥架做到对环境的适应度要高,而高分子电缆桥架具有阻燃、防腐、绝缘好的优点能够应对环境对电缆桥架的影响。
Polymer cable tray is divided into trough type, tray type and ladder type, which is composed of support, bracket and installation accessories. The bridge in the building can be erected separately or attached to various buildings (structures) and pipe gallery supports, which shall reflect the characteristics of simple structure, beautiful appearance, flexible configuration and convenient maintenance. With the rapid economic development, the utilization rate of cable bridge is very high, which makes the equipment of wires, cables and optical cables have the level of standardization, serialization and generalization. The installation environment of cable bridge is different, which requires the cable bridge to have a high adaptability to the environment, and the polymer cable bridge has the advantages of flame retardant, anti-corrosion and good insulation, which can deal with the impact of the environment on the cable bridge.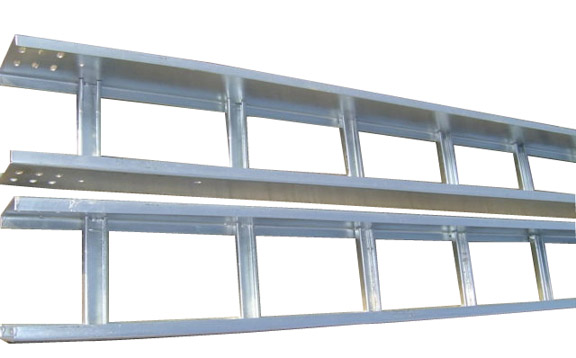 电缆桥架有着多种形式,主要是槽式、托盘式和梯架式、网格式等结构。由于轻巧化的设计,可以广泛应用于各种建筑场所。室内的配电支架或者室外的露天建筑物。电缆桥架主要是支架,托臂和其他一系列的安装配件。结构看起来十分简洁,没有过多复杂的内部结构,灵活安装,维修方便。正是由于电缆桥架的改良设计,分量轻,承载能力大,才使得在不同的用电环境中桥架都可以快速安装和适用于大型的配电场景,在国家电缆铺设计划中发挥了重大作用。同时另外的槽式桥架更是具有良好的屏蔽功能,正是由于它是屏蔽式的结构,可以在严酷的环境下都有良好的保护效果,同时具有防尘功能,更好的保护电缆和桥架。不同的桥架有着不同的优点和缺陷,我们应根据场景选择。
Cable tray has many forms, mainly trough type, tray type, ladder type, grid format and other structures. Due to the lightweight design, it can be widely used in various construction sites. Indoor power distribution support or outdoor open-air building. Cable tray is mainly a bracket, bracket and a series of other installation accessories. The structure looks very simple, without too many complex internal structures, flexible installation and convenient maintenance. It is because of the improved design of cable tray, light weight and large bearing capacity that the cable tray can be quickly installed and suitable for large-scale power distribution scenarios in different power consumption environments, and has played an important role in the national cable laying plan. At the same time, the other trough bridge has good shielding function. Because it is a shielding structure, it can have good protection effect in harsh environment. At the same time, it has dust-proof function to better protect cables and bridges. Different bridges have different advantages and disadvantages. We should choose them according to the scene.
电缆桥架选择要做好前期的准备工作,包括环境、型号、电力系统情况等,如下:1、了解基本的情况:(4)确定安装方式:根据场所的设置条件确定桥架的固定方式,选择悬吊式、直立式、侧壁式或是混合式,连接件和紧固件一般是配套供应的,此外,根据桥架结构选折相应的盖板。 (5)绘出电缆桥架平、剖面图,局部部位还应绘出空间图,开列材料表。 2、如与电力电缆桥架合用时,应将电力电缆和弱电电缆各直一侧,中间采用隔板分隔。3、弱电电缆与其它低电压电缆合用桥架时,应严格执行选择具有外屏蔽层的弱电系统的弱电电缆,避免相互间的干扰。山东欧凯高分子材料有限公司打造绿色环保产品。
Preliminary preparations shall be made for the selection of cable tray, including environment, model, power system, etc., as follows: 1. Understand the basic situation: (4) determine the installation mode: determine the fixation mode of cable tray according to the setting conditions of the site, and select suspension type, vertical type, side wall type or hybrid type. Connectors and fasteners are generally supplied together. In addition, Select and fold the corresponding cover plate according to the bridge structure. (5) Plan and section drawings of cable tray shall be drawn, and space drawings shall be drawn for local parts, with material list listed. 2. If it is used with the power cable bridge, the power cable and weak current cable shall be straight on each side, and the middle shall be separated by partitions. 3. When the weak current cable and other low-voltage cables share the bridge, the weak current cable of the weak current system with external shielding layer shall be strictly selected to avoid mutual interference. Shandong Oukai polymer material Co., Ltd. creates green environmental protection products.
桥架支撑件安装:1.桥架支撑件在室内安装常用几种型式,参照国标图集86SD169《电缆桥架安装》。2.自制支架与吊架所用扁铁规格不应小于30mm×3mm,扁钢规格不小于25×25×3mm,圆钢不小于φ8。自制吊支架按设计要求进行防腐处理。3.支架与吊架安装时应挂线或弹线找直,用水平尺找平,以保证安装后横平竖直。轻钢龙骨上敷设桥架应设各自只独卡具吊装或支撑系统,吊杆直径不应小于8mm,支撑应固定在主龙骨上,不允许固定在辅助龙骨上。4.钢结构:可将支架或吊架直接焊在钢结构上,也可用全能吊具进行安装。
Installation of bridge supports: 1. Several types of bridge supports are commonly used for indoor installation, refer to the national standard atlas 86sd169 cable bridge installation. 2. The specification of flat iron used for self-made support and hanger shall not be less than 30mm × 3mm, flat steel specification not less than 25 × twenty-five × 3mm, round steel not less than φ 8。 The self-made lifting bracket shall be subject to anti-corrosion treatment according to the design requirements. 3. During the installation of supports and hangers, hang lines or snap lines for alignment, and level with a level ruler to ensure that they are horizontal and vertical after installation. The cable tray laid on the light steel keel shall be provided with a separate fixture hoisting or support system. The diameter of the suspender shall not be less than 8mm. The support shall be fixed on the main keel and not allowed to be fixed on the auxiliary keel. 4. Steel structure: the support or hanger can be directly welded on the steel structure, or it can be installed with all-round spreader.
电缆桥架材料如何选择?现在电缆桥架在生活中的使用已经是很普遍的了,电缆桥架提高了电力系统的运输,检查修理也很方便,所以如果电缆桥架的质量好的话,使用寿命长是在好不过的了,电缆桥架的材料可以选用冷轧钢板,冷轧钢板就是经过冷轧生产的钢板。冷轧是在室温条件下将钢板进一步轧薄至为目标厚度的钢板。和热轧钢板比较,冷轧钢板厚度更加准确,而且表面光滑、漂亮,同时还具有各种优越的机械性能,特别是加工性能方面。因为冷轧原卷比较脆硬,不太适合加工,所以通常情况下冷轧钢板要求经过退火、酸洗及表面平整之后才交给客户。
How to select cable tray materials? Now the use of cable bridge in life is very common. Cable bridge improves the transportation of power system and is convenient for inspection and repair. Therefore, if the quality of cable bridge is good, it is better to have a long service life. The material of cable bridge can be cold-rolled steel plate, which is the steel plate produced by cold rolling. Cold rolling is to further thin the steel plate to the target thickness at room temperature. Compared with hot-rolled steel plate, cold-rolled steel plate has more accurate thickness, smooth and beautiful surface, and also has various superior mechanical properties, especially processing properties. Because the cold-rolled original coil is brittle and hard, it is not suitable for processing, so generally, the cold-rolled steel plate is required to be delivered to the customer after annealing, pickling and surface leveling.
The above highlights are provided by Shandong women's cable bridge. Please pay attention to more information http://www.sdhangfeng.com